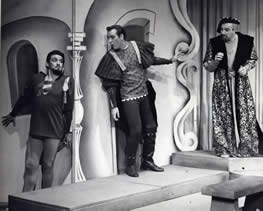 TOUR 64:
Sept. 2012- May 2013

As America's longest running touring company, we are proud to announce our 64th consecutive season. Based out of Olney Theatre Center (just north of Washington, DC), National Players presents fully-produced classics to audiences nationwide. Committed to the formation of emerging theatrical talent and new audiences, we celebrate the experience of theatergoing by presenting the world's greatest dramatic literature.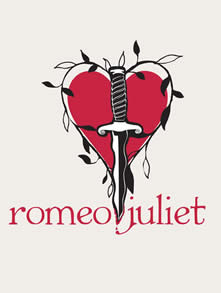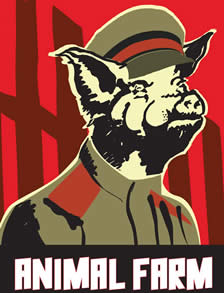 Sixty-Four Years of Tradition: We are excited to embark on our 2012-2013 tour with William Shakespeare's Romeo and Juliet and George Orwell's Animal Farm (adapted by Ian Wooldridge). In touring tradition, our ten company members double and triple roles and technical assignments such as lighting, sound, costumes, set-up and strike.
National Players makes literature live for its audiences by engaging their minds and touching their hearts with fresh, contemporary takes on the classics. Each year, whether performing in inner city schools or in rural America, tour members continue the tradition by traveling state-to-state, sparking the imagination of audiences across the country.
---

What Our Presenters' Are Saying . . .


"For the first time in a long time, there was a standing ovation by the high school audience members attending! Not to say that other shows presented here in past years weren't worthy, but this show particularly captured the audience's attention. The show was obviously very well received. National Players continues to present quality productions, goes the extra mile in providing details in advance and has a great cast/crew to work with. We are looking forward to a continued relationship in 11-12."
—Julie Kriston, The Clemens Center, Elmira, NY
"The performance last evening was very, very good. Our near-capacity house went away having had a wonderful experience; for many of our students this was the first time seeing Shakespeare in production and the innovative approach that your company has taken to Midsummer Night's Dream should whet their appetites for more…The eight members of the company were terrific: talented as actors and very cooperative with our personnel."
—Michael Cunningham, Lewis University, Romeoville, IL
"Whether they were doing major improvisation between shows, teaching workshops, or just interacting with the students, they exuded professionalism.They represent your organization extremely well. I just hope that my students represent me and my college that well.They are personable, approachable, and always professional."
—Keith Hight, College of Southern Maryland